Scratch & Dent Mini II EX fully automatic 7 egg incubator
Product Information
Smallest incubator with automatic control of temperature, humidity and programmable egg turning. Ideal for breeders of valuable eggs such as parrots.
Description
New but esthetically substandard product. This incubator is in perfect working condition and comes with a full 3-year manufacturer's warranty but has some cosmetic defects (marks, scratches, etc.) or has been used for demo purposes.


The popular Mini Advance EX incubator has been improved to include a room temperature alarm in addition to the existing incubator temperature alarm and the convenience of an integral water pump.
The Mini II EX egg incubator is menu driven and extremely easy to use but provides all necessary features for breeders of highly valuable eggs and is particularly ideal for hatching parrot species.
The Mini II EX offers total control of the incubation environment:
Digital display of temperature and humidity
Automatic temperature control in °F or °C fully factory calibrated
Automatic humidity control in % RH (Relative Humidity) with new integral humidity pump
High and low temperature alarms including the new room temperature alarm
Periodic Egg Cooling feature
Automatic egg turning with programmable turning interval and turning angle
Fan assisted air circulation
Clear dome for excellent visibility
Polygiene Biomaster

™

anti-microbial plastic construction - robust and easy to clean
7 egg capacity or 12 smaller eggs (both standard egg insert and small egg insert are included)
Some cosmetic defects but in perfect operating order. Brand new with full 3-year manufacturer's warranty.
Find out more about the Polygiene Biomaster™ anti-microbial plastics.
Maximum egg capacities (approximate):
Amazon/Macaw 12
Quail 12
Pheasant 12
Hen 7
Duck 7
Combine Your Purchase With
6 Total Upsell Products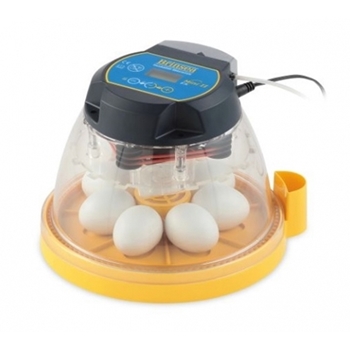 Totat: