New Brinsea® Clifton Coops®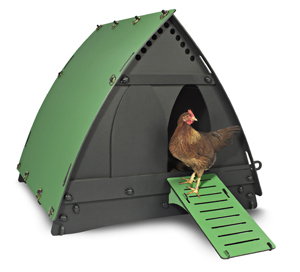 Brinsea® Products, the Incubation Specialists, are diversifying into hen houses with the new Clifton Chicken Coop range of innovative recycled plastic models.
The new Clifton Coops® combine the benefits of modern materials and manufacturing techniques with attractive, traditional arks at very reasonable prices.
Hen keepers are increasingly recognising the benefits of recycle plastic board: zero maintenance, very long life and easily cleaned – which makes combating the dreaded red mite much easier.
The Clifton Chicken Coops hen houses are incredibly easy to disassemble and clean out thanks to the unique Coop Clip system. The houses are off the ground for easier access and have generous, sturdy, welded mesh runs available as options if required. Internally your birds can either roost on the high quality removable wooden perches or snuggle into the moulded plastic nest tub, which are also removable for cleaning. A slide out droppings tray helps to make cleaning less of a chore too. Two sizes are available: The Winscombe which holds 3-6 hens and The Churchill which holds 6-10 hens depending on the size of the birds.
For full details see the chicken coops section of this website or call 1-888-667-7009.
---