New Octagon® 40 Incubator range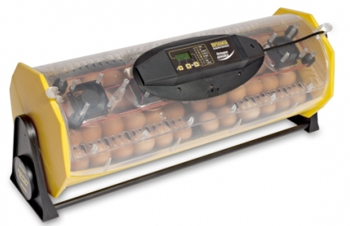 New Octagon® 40 incubator range and incubation cooling option. 2012 sees the introduction of the Octagon® 40 ECO, Advance and Advance EX egg incubators to complement the popular Octagon® 20 models. Each model can hold 48 hen's eggs or equivalent and has automatic egg turning as standard. With 35 years experience, Brinsea® know that a successful incubator needs to control temperature as accurately as possible and all the new Octagon® 40 models combine four top quality fans, computer modelled airflow and tough, insulated cabinets to achieve near-perfect temperature consistency. The ECO model uses a high quality electronic temperature control and traditional glass thermometer for simplicity, practicality and amazing value. The Advance model features Brinsea's digital control system with digital readout of temperature and humidity, temperature alarms and the unique NEW cooling feature to improve hatch rates. The Advance EX has all the features of the Advance plus cushions for fragile or valuable eggs and the EX water pump system for fully automatic humidity control and the ultimate in incubation control.
Improved hatch rates with Brinsea® NEW incubation cooling option.
Bird breeders have known for many decades that eggs can be cooled for limited periods of time during incubation without causing problems but recent research has shown that hatch rates can actually increase significantly as a result of cooling.
Cooling is an entirely natural process as most birds will get off the nest at least once a day and leave the eggs unheated for a significant time. From Brinsea's 35 year experience, the best hatch rates are always achieved when the incubator can best mimic the natural nest conditions. For this reason Brinsea® have now incorporated a cooling option in all their Advance models of egg incubators since 2012. This feature turns the incubator's heater and low temperature alarm off for a selected period but keeps the fan running. After the cooling period is complete the incubator reverts to normal temperature and the alarm is automatically reset.
Viewfull details of Octagon® 40 EcoView full details of Octagon® 40 Advance View full details of Octagon® 40 Advance EX or call 1-888-667-7009.
---