Scratch & Dent Ova Easy 100 Advance II Incubator
Item Number:
  MJ1023CSDMJ1023CSD
Product Information
NEW FULLY DIGITAL 96 chicken egg incubator with full set of universal egg trays. Ideal for poultry, duck, goose, quail or pheasant eggs.
Description
New but esthetically substandard product. This incubator is in perfect working condition and comes with a full 3-year manufacturer's warranty but has some cosmetic defects (marks, scratches, etc.)


The OVA-Easy 100 Advance Series II incubator features:
Factory assembled - ready right out of the box
Digital display of temperature and humidity
Automatic temperature control in °F or °C fully factory calibrated
High and low temperature alarms
NEW high and low room temperature alarms
NEW Cooling feature
Programmable automatic egg turning - 30 to 180 minute intervals
NEW single button press to level the shelves for easy tray access
High performance, flexible incubator with hatching covers.
Large capacity, e.g. 96 hens eggs maximum (72 with universal trays supplied)
Suitable for a wide range of egg sizes
Clear, double-glazed observation door
Sturdy metal frame, energy efficient, insulated cabinet
Unique 'laminar airflow' to eliminate cold spots.
2 year warranty

INCLUDED FREE

set of 2 universal egg trays with adjustable dividers to accommodate a wide range of egg sizes simultaneously Plus 2 hatching covers to prevent hatchlings from escaping.

A $70 value included absolutely free.
Options - Not supplied with the incubator - to be ordered separately:
Commercial style egg flats (chicken, quail, pheasant or goose) to maximize capacity
Advance Humidity Pump for fully automatic control of humidity
Combine Your Purchase With
7 Total Upsell Products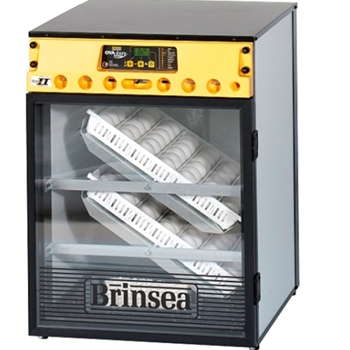 Totat: