Why Buy Brinsea®?
The Brinsea difference
To maximize hatch rates, a successful incubator must maintain even air temperature. Brinsea's computer modelled temperature mapping technology means no other brand on the market comes close.
Brinsea® are at the forefront of incubation technology with over 40 years experience in developing a range of egg incubators and accessories offering unparalleled practicality, reliability and hatch rates with healthy chicks time after time.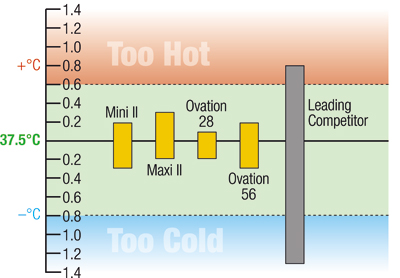 When buying an incubator you are choosing the chance of your eggs hatching. The better the incubator, the better the chance each egg will hatch. The best selling Octagon® 20 Advance has temperature stability at least twice better than its closest rival Ian Pearce, Managing Director.
I'm a great fan of Brinsea and would choose them every time. Good hatch rates and never let me down. Sandy Lee
With Brinsea® you can rely on
Proven hatch rates
Renowned for quality and reliability
3 Year warranty
Excellent build quality
Comprehensive range
Everything you need to hatch and rear chicks of all species.
Customer Service
Incubation help
Web-based support and advice
FREE Incubation Handbook download
FREE Eggwise Incubation app (Android only)
Technical Support Department
Spare parts and consumables
Product servicing
Worldwide distribution
Made in Britain
Research and Development Department continually refining, testing and improving our incubation technology
Brinsea® are the choice of top breeders and conservation centers worldwide.
---