Chick Brooders
EcoGlow Chick Brooders - Safe and efficient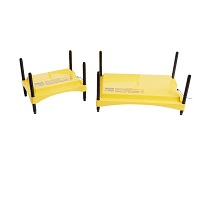 Brinsea® best selling EcoGlow chick brooders have been redesigned to be even safer, economical and easier to clean. These highly efficient low cost brooders are ideal for keeping newly hatched chicken, game and waterfowl warm.

They are available in 2 sizes: the EcoGlow Safety 600 suitable for up to 20 chicks and the EcoGlow Safety 1200 for up to 35 chicks.
These radiant heaters are far more efficient than conventional suspended heat lamps or mains voltage chicken heating plates as well as being much safer since they run from a 12 volt transformer.

The brooder panel height can be adjusted to match chicks of different sizes from quail to goose.

Products
8 Products On Page
Our best selling EcoGlow Chick Brooders have been redesigned to be even safer, more economical and easier to clean.
The NEW EcoGlow chick heating plates come in 2 sizes - Safety 600 and Safety 1200 ideal for warming 20 and 35 newly hatched chicks respectively for the crucial first days and weeks.

The water tight construction and low voltage operation of the EcoGlow Poultry Brooders is designed to comply with stringent electrical safety standards. Unlike other chick heating plates on the market the EcoGlow Chick Brooders run at a low voltage - a much safer option than mains voltage chicken heating plates or suspended heat lamps.
The low voltage means that the heating surface can't get hot enough to burn newly hatched chicks so they are contact brooded by its warm underneath surface as they would by the mother hen. The new EcoGlow Safety Chick Brooders use a metal warming plate which evens out hot and cold spots which occur with plastic plates and improves heat radiation. The new flared skirt design retains more heat, improving efficiency and further reducing energy use. The Ecoglow heat plates only use a fraction of the electricity of typical suspended heat lamps!
The EcoGlow Chicken Brooders run at 12 volt for safety and with the convenience of a generous (about 10 feet) power lead and have easy height adjustment for a wide range of chick sizes. and its tough construction makes it durable and easy to clean. Great for classroom hatches.
With hygiene a top priority, the new EcoGlow Safety Brooders are made of durable, hygienic ABS plastics and come with a FREE clear plastic cover to make cleaning as easy as possible. Replacement covers are available sold in a pack of 3.