Mini II Eco manual 10 egg incubator
3 Year warranty

Spares Available

Polygiene Biomaster™
Product Information
Smallest egg incubator available with electronic temperature control. Great for hatching eggs in the classroom or a science project.
Description
The Brinsea Mini II Eco: Smallest Egg Incubator with Precise Proportional Electronic Temperature Control
Now with convenient external water top-up, this improved 10 chicken egg incubator is a simple but high-quality egg incubator which gives reliable hatching results for a wide range of species.
Features
Economic to buy and extremely simple to use, it's ideal for beginners, children, or as a science project incubator:
Temperature factory preset at 99.5 F with easy tamper-proof adjustment
Flashing temperature indicator and conventional but accurate liquid in glass thermometer
Fan assisted air circulation
Humidity provided by water trays with new convenient external water top-up; not suitable for automatic humidity control
Polygiene Biomaster™ anti-microbial plastic construction - robust and easy to clean
Excellent visibility
3-year warranty
Find out more about the Polygiene Biomaster™ anti-microbial plastics.
For automatic turning and more features, see the:
Mini II Advance fully digital 7 egg incubator .
Specifications
Egg Capacity(approximate)
Quail: 24 | Pheasant: 12 | Standard Hen: 10 | Large Hen, Duck, Turkey: 8 | Goose: 6
Dimensions
H x W x D
10" x 10" x 6.5"
(245mm x 245mm x 165mm)
Weight
1lb 13oz (0.83 Kg)
Power Consumption
Maximum 20 Watts - Typical 12 Watts
Power Supply
100 - 230v, 50/60Hz, 0.5A max.
Humidity Control
Manual
Egg Turning
Manual
Warranty
3 Years
Comparison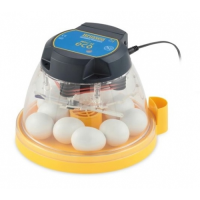 Mini II Eco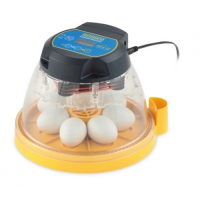 Mini II Advance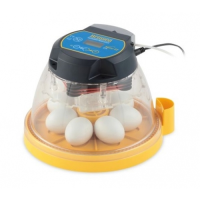 Mini II EX
Egg Turning
Manual
Programmable
Programmable
Temp. Display
Glass Thermometer
Digital
Digital
Dimensions
H x W x D
10" x 10" x 6.5"
(245mm x 245mm x 165mm)
10" x 10" x 6.5"
(245mm x 245mm x 165mm)
10" x 10" x 6.5"
(245mm x 245mm x 165mm)
Additional Features
External water top-up
Antimicrobial plastics
Countdown to Hatch
External water top-up
Antimicrobial plastics
Integral water pump
Antimicrobial plastics
Combine Your Purchase With
6 Total Upsell Products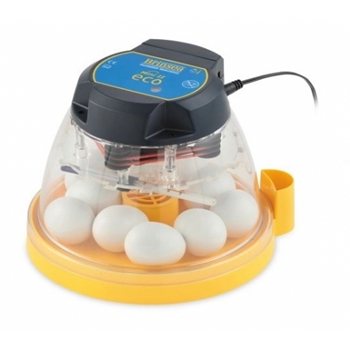 Totat: