Maxi 24 Classroom incubator and brooder pack
Product Information
All the equipment you will need for hatching a dozen chicks or ducklings in the classroom. Complete with a detailed Lesson Plan manual on CD-ROM.
Description
The popular Mini Classroom Pack has been joined by a larger brother the Maxi 24
This chick incubation kit comes complete with lesson plan for hatching 24 chicken or duck eggs in the classroom. Ideal for elementary teachers wanting to introduce the wonders of life to their students.
The Maxi 24 incubator classroom kit comes in a sturdy reusable storage box and consists of:
"The Egg Story" Lesson Plan manual on CD-ROM
24 standard hen egg capacity or 12 large duck/hen/turkey eggs with the 2 quadrant sets supplied
40 small eggs or 8 goose eggs with optional quadrant sets
The egg quadrants simply clip together so you can mix and match to suit your needs
New Maxi 24 Advance digital incubator with fully automatic egg turning and autostop feature and NEW external water top-up
Preset temperature and easy to use menu driven controls
Digital display of temperature with high and low alarms including NEW room temperature alarm
Programmable automatic turning with count down to hatch day and autostop
OvaScope battery operated egg scope to watch the live embryo develop inside the egg
EcoGlow chick brooder
Plastic chick enclosure
Feeder
1 Qt (litre) Drinker
Full operating & troubleshooting instructions
List of fertile eggs suppliers
3 Year warranty
"The Egg Story" lesson plan
explains the entire process of hatching eggs with day by day color pictures of developing and hatching chicken. It shows how an egg is formed, what its different parts and functions are and how a chick embryo develops and hatches. It also gives an insight into particular biological topics such as blood circulation, respiration and bones.
Further useful resources have been included at the end of the manual to consolidate the embryology and hatching project but also enhance programs in nutrition and mathematics for instance. Particularly suited to elementary and middle school science projects, the lesson plans are flexible and can easily be tailored to younger students' needs.
Combine Your Purchase With
8 Total Upsell Products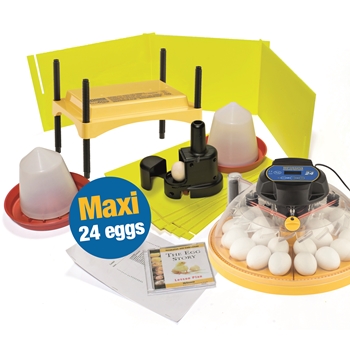 Totat: