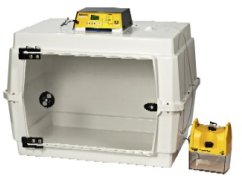 Brinsea® are delighted to announce the launch of the NEW TLC range of bird brooders; ideal for rearing parrots, birds of prey and all other exotic species and they also double up as hospital cages for sick adult birds.
As part of their ongoing product improvement program, Brinsea® have designed the completely new TLC-40 and TLC-50 models which replace the TLC-4 and TLC-5.

The TLC-40 and TLC-50 incorporate the popular features of the previous models but with huge improvements in control systems, sturdiness and most importantly: ease of cleaning.
The '40 and 50' share similar overall sizes to the best selling TLC-4 and 5 (approximately 10 and 26 gallons volume respectively) but each of the new models is available with either ECO or ADVANCE control systems.

The cabinets are molded from tough, gloss finished ABS, making them both sturdy and easy to clean. The importance of cleaning extends to all aspects of the design: the cabinets split to allow the base to be immersed and the fan and heater are both easily accessed for cleaning.

The all-digital push button control panels are wipe clean without disturbing the settings. The Advance models show humidity (as well as temperature) and include temperature and power-off alarms. The EX pump is an optional extra for the Advance models and provides fully automatic control of humidity. Inlet and re-circulating filters keep the risks respiratory problems from airborne contamination to a minimum.
The prices are as competitive as ever ranging from $499 to $799 depending on size and features.

For full details see the Intensive Care Units section of this website or call 1-888-667-7009.
---
---