Ovation 28 Classroom Incubator & Brooder Pack
Product Information
All the equipment you will need for hatching chicks or ducklings in the classroom as well as a detailed Lesson Plan manual on CD-ROM.
Description
Chick incubation and embryology kit complete with lesson plan for hatching chicken or duck eggs in the classroom or for a science project. Ideal for science educators interested in teaching older students more advanced aspects of incubation and embryology.
The kit comes in a sturdy reusable storage box and consists of:
"The Egg Story" Lesson Plan manual on CD-ROM
Ovation 28 Advance digital incubator with fully automatic egg turning (capacity approx. 28 hen eggs with the standard egg carriers provided)
Tilting egg carriers so ideal for more advanced embryology projects with petri dishes or windowed eggs.
Preset temperature and easy to use menu driven controls
Digital display of temperature and humidity
OvaScope battery operated egg scope to watch embryo development
Ecoglow Chick Brooder
Plastic chick enclosure
10" Feed Trough
1 Qt (litre) Drinker
Full operating & troubleshooting instructions
List of fertile eggs suppliers
3 Year warranty
"The Egg Story" lesson plan
"The Egg Story" lesson plan explains the entire process of hatching eggs with day by day color pictures of developing and hatching chicken. It shows how an egg is formed, what its different parts and functions are and how a chick embryo develops and hatches. It also gives an insight into particular biological topics such as blood circulation, respiration and bones.
Further useful resources have been included at the end of the manual to consolidate the embryology and hatching project but also enhance programs in nutrition and mathematics for instance. Particularly suited to elementary and middle school science projects, the lesson plans are flexible and can easily be tailored to younger students' needs.
Combine Your Purchase With
8 Total Upsell Products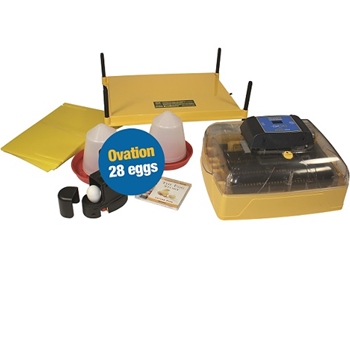 Totat: